The transition to full-time telecommuter
A year ago, I went from working from home 3 days a week, to working from home every day of the week.  In this relatively short time, I have developed some <ahem> Interesting telecommuting habits.  And I'm really not too proud of them, but I'm sharing them publically, to see if I'm alone.
Let me start off by saying, I shower, put on actual clothes, and make up everyday.  It just helps me prepare for the day and I feel better.  No suits or anything – I'm still in jeans and a t-shirt, but no jammies for me.  Those are probably the extent of my good habits. Now on to the bad.
1. Distracting others on conference calls
It's not uncommon during a particularly boring conference call, to IM another bored colleague just to catch up. Occasionally, we will comment on the business topics at hand, but usually it's more about weekend activities, trials and tribulations with our children, or great food/wine/trip, etc.  I justify these sideline interactions as "relationship building" opportunities and part of telecommuting culture.
2.  Painting my nails during conference calls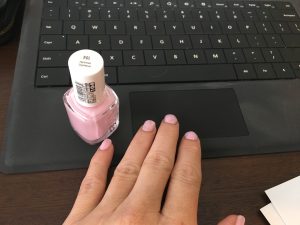 Apparently, I'm not alone on this one either. But when there's no one to ping on IM or if my colleagues and I are all caught up on our personal lives, I'll grab my manicure bag and turn to my nails.  Self-care like this is both productive and very rewarding. And the mindless nature of painting little tiny spaces, frees my mind and ears to fully absorb the topics being discussed on the conference call.
3. Painting the dog's nails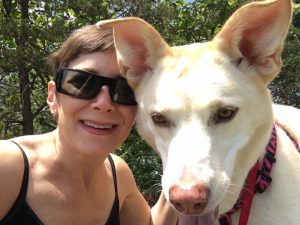 Well, I don't actually paint her nails, but she's a welcome distraction when things get a bit stressful. Sitting on the floor and petting her or taking her out for a brief walk or even brushing her, clears my mind and enables me to recalibrate my efforts, especially when facing a difficult task.
4. Eating when I'm not hungry
Fortunately, I have to walk all the way downstairs to get food.  But sometimes, when confronting an unpleasant task, food is the perfect procrastination tool.  I walk downstairs, (canine shadow with me) and peruse the pantry and the refrigerator and forage – in search of motivation but settling for food.
5. Using social media as a surrogate
When I'm feeling especially alone, I'll hop onto Twitter or Facebook or LinkedIn and start reading, liking and commenting like a teenager who has just been grounded.  Somehow the faux interaction makes me feel like I'm connected to others, even when there's no one there.
So, am I alone? What bad telecommuting habits are you willing to share?