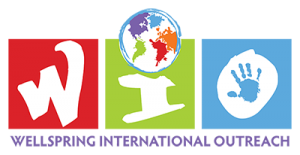 Since 2015, I've visited the Hogar Belen orphanage in Moquegua, Peru, four times. Along with my colleagues from Wellspring International Outreach, we work on the most urgent needs at that moment. Our projects have included renovating children's rooms, setting up a bakery, installing hot water heaters and setting up a digital literacy program.
In the process of doing this work for this community of unwanted children, 3 nuns and a few additonal caregiving adults, I have received a lot more than I have given. Each visit affects me in a different way, uncovering some basic truth that goes unnoticed in the busyness and privilege of my everyday life.
This year, I learned what it means to lend a helping hand. Now, you are probably thinking I'm about to tell you what we did this past month during our most recent trip. Not at all. I'm going to tell you what I learned from the children about helping others.
<continue reading on the Wellspring International Outreach blog>