It's been a while since I posted, but I have a really good excuse.  In October of 2017, I took a new position at Microsoft.  I went from a marketing role with essentially no travel, to a national sales role with lots of travel.  At this stage in my life, the travel works for me, and I totally enjoy it – most of the time.
And over the past year, I've become quite the seasoned traveler, learning all kinds of tips and tricks to make the journeys a bit smoother.  So, my dear reader, I will share what I've learned in hopes that your travels may also be smoother.
Packing for Success
Once you've booked your trip, the wardrobe is the most important thing. For me, I often have to pack for meetings, trips to the hotel gym and casual clothes for the occasional evening out with colleagues or on my own.  The way to make this all a bit easier is to have some go-to outfits. These are comfortable, wrinkle-resistant, and color coordinated (the shirt worn at the business meeting can be worn with jeans at night, for example).   And as gross as this might sound, I typically only pack one gym outfit to save space. All of this goes into a regulation-sized rollerbag so I can avoid the whole checked luggage thing. Additionally, I have a duplicate set of travel toiletries that I just drop in my luggage, so I don't have to think about, or pack, individual items.
Airport Logistics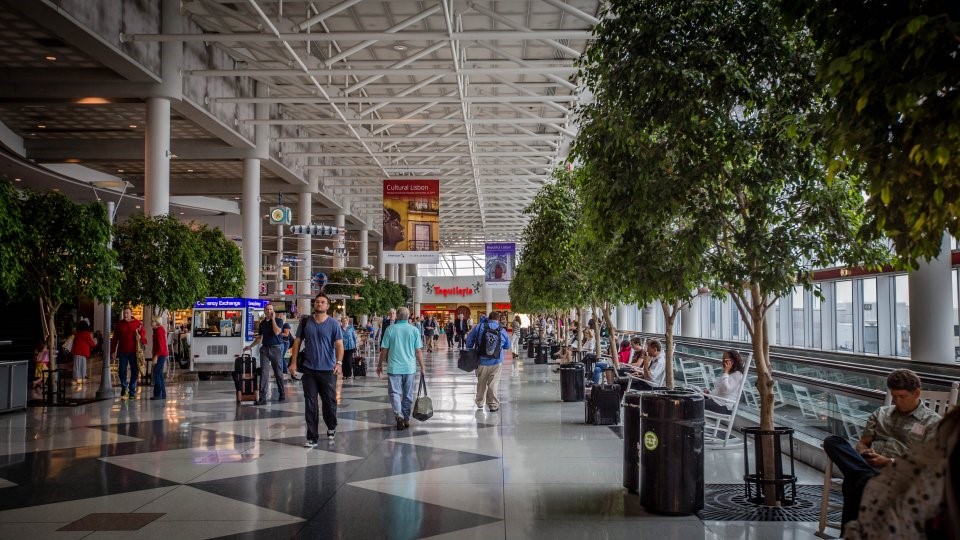 The terminal at Charlotte Douglas International, my home airport, known for rocking chairs, live piano music and never-ending construction
Once you get to the airport, take advantage of your TSA precheck status. Don't have it yet? It's a must! The security process is faster and much less invasive. No shoes off or laptops to be taken out of your briefcase.  However, if you ladies are dressed for a meeting at your destination, don't wear stilettos. They must always be taken off, even in the precheck line, because of the nails that hold your fancy heels in place.  (Wedges are fine, by the way, and can be worn through the security process.)
Here's a quick story about getting my TSA precheck status.  I had signed up online to visit a local TSA office in Charlotte and it was about a 6-week wait. <Meh> However, on one of my trips to Indianapolis, I noticed that they had a TSA office in the terminal that was essentially empty.  I had my passport (it was still in my bag from a trip to Peru a few weeks before) and license with me, so I walked in and asked about the wait. "5-10 minutes," the unenthusiastic TSA contractor said. Being chronically early for my flight (another strategy to reduce travel stress), I had plenty of time and waited.  20 minutes later the process was completed and 72 hours later, I had my Known Traveler ID number. Yay!
The only other logistical advice I will give you is this: when you get off the airplane and need to go to the bathroom, never opt for the first one you come to. Pick the second or even the third one, and you will see far less people trying to vie for an open stall.
Home is Where the Rollerbag Is
When traveling to a city that I've been to before, I try to always stay in the same place.  While I opt for Marriotts or Hiltons to earn the points, the reason behind going to the same hotel is to reduce the unknowns and subsequent stress of finding the hotel and where everything is located in it. Furthermore, you get to know the surrounding areas, identifying your favorite eateries, shopping areas, yoga studios, etc.   
And since I mentioned points, remember to pick a hotel chain or two, enroll in their points program and reap the rewards.  Starwood and Marriott are merging their programs so you can stay at a Westin or a Marriott and earn points on the same account.
The Travelers Nose
Anyone who has taken a flight, knows that the nose pays dearly as the recycled air dries out mucus membranes faster than an egg fries on a Las Vegas sidewalk in the summer.  To combat this and stave off the threat of a cold, I always bring nasal saline solution.  As tempting as it is to use on the plane, I refrain, and use it every morning and evening while traveling.  It really helps keep my nose and throat happy and healthy.
On a Wing and Prayer
I have to admit, while I still marvel at the physics of flight, take-offs and landings freak me out a bit. I know that those are most tenuous time for an airplane. I don't know how this happened, but I've developed a habit of looking out the window (I always opt for window seats) and running through all the things I'm grateful for in my mind.  It takes me out of fear mode and into happiness mode. I list everything to my family and friends, to my job, to the people I've met while traveling . . . anything to keep my mind focused on pleasant things.
Your Travel Strategies
What strategies do you use to make your travel easy and breezy?  Please share them so we can all reduce the stress of travel. Thanks!