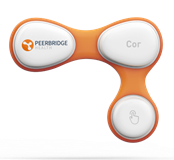 When was the last time you or a loved one went to the doctor or hospital? Things have changed dramatically over the last few years, with kiosks to register, portals to track your health history, and texts reminding you about upcoming appointments.
These changes have made a difference in how we interact with our healthcare providers. But there are more changes, not on the horizon, but here today. It is estimated as many as 50 billion medical devices will connect to clinicians, health systems, patients, and to each other.
This blog post, on the Microsoft Azure blog, highlights two innovative patient monitoring solutions from Peerbridge Health and Sensoria Health.