It's been a month since Scott and I returned from our two-week adventure in Ecuador.  In these last weeks, I've had ample time to reflect on the experience.
"This is the Adventure"
Spending two weeks traveling around on a motorcycle with a faulty GPS can really put things into perspective.  We survived a vulture-infested drive through a city dump, washed-out roads, bug infestations, almost being clotheslined by a farmer and his cows, having the tank bag fly off the bike on a windy mountain road, and dropping the bike – twice.  Oh, and two earthquakes. I'll never forget those.  At every challenge, we said to each other, "This is the adventure!"
Despite all of the trials and tribulations, the lasting impressions of Ecuador are both beautiful and tragic.
But before I go on, if you've never traveled by motorcycle, you must know that riding for long stretches on a motorcycle is like no other mode of transportation. Out in the open, you aren't just sightseeing. You are immersed in the sights, sounds, smells, and wide open spaces.
Ecaudor: Beauty and Blight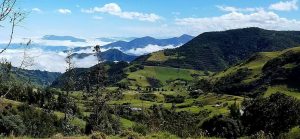 Ecuador is truly a beautiful country. Each curve revealed spectacular views of mountains, farms, quaint towns, and tiny villages.  The pictures don't convey the magnitude and magnificence of the scenery.
But we were also confronted with extreme poverty and tragedy. The April, 2016 earthquake left many in Pedernales and the surrounding areas in the Esmeraldes region, homeless. Months later, the tent cities persist as the families have nowhere else to go.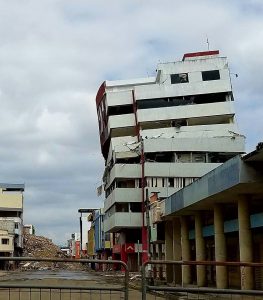 Those moments driving through the hardest hit areas were truly sobering. Here we were with our fancy, rented motorbike, high-tech clothing and helmets, and a GoPro mounted to our bike. Our 3 cases attached to the bike – our entire wardrobe and essentials for 2 weeks of travel – was more than most tent dwellers had left from their ruined homes.
And despite their plight, the people were warm, friendly and helpful. My stammering Spanish was received with polite smiles and slow, basic responses.
Favorite Spots
Our favorite spot was Cuenca.  We arrived there halfway through the trip and were immediately enamoured with the beautiful architecture, interesting shops and our Spanish-style accommodations, Hotel Casa Del Aguila. We rearranged our itinerary so we could enjoy one of our two "rest days" there.  It is there that we discovered Loja coffee, the best coffee I have ever tasted (yes, even better than Starbucks).
Our next favorite places were Zaruma and Vilcabamba. We didn't get to spend as much time at either location, but hope to go back. Zaruma makes the streets of San Francsico look tame. Zaruma is high in the mountains and the extremely narrow streets are a challenge both because of the constant curves and the incredibly steep inclines and declines.   How do we know the streets so well?  Because we literally walked the entire town, visiting no fewer than 5 ATMs until we finally found one in our network. We were breathless after hiking around shop-lined, cobblestone streets.  It was also the first place where we saw people actively painting buildings, fixing sidewalks and sweeping the streets.
We had been told that Vilcabamba is the Asheville of Ecuador, filled with hippies from all over the world. When we arrived, we could sense a similar, Asheville-like vibe. We only drove through it briefly, but it certainly ranked as one of my favorite spots.
What's Next?
Lots of people are asking us where our next trip will take us.  And at this moment, I can't really say.  But what I know for certain is that adventure travel is like a drug.  Once you start, it's hard to stop.  The new experiences, the adrenaline, the ways you surprise yourself, are all intoxicating.  You even start looking at your budget differently, eager to fund the next trip. (If we don't go out for a month, we'll have more money to travel.)
So, I don't know what's next, but I do know that there definitely will be a next one. And I urge you, if you haven't already, find your own path to adventure, whatever that means for you. It doesnt't matter the place, mode of transportation or even what you do when you get there. All you need is to go somewhere new, learn a few words of a different language, cultivate new foods and experiences, and relish every moment. You won't regret it.
P.S. Special thanks to Ecuador Freedom Bike Rental. The owners, Sylvan and Court, were great!